Disposable Biopsy Forceps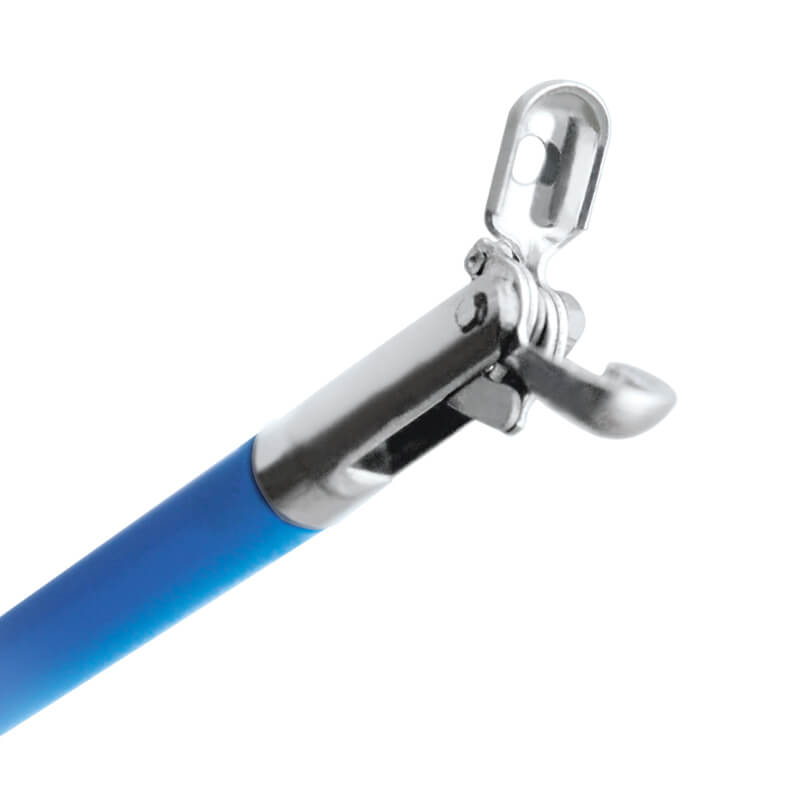 Offering forceps with diameters of 1.8 mm, 2.3 mm and 3.0 mm in addition to lengths of 120, 180, 230 and 260 cm. Whether they come with or without a spike, coated or uncoated, with standard or toothed spoons – all models are characterized by their high reliability. The excellent cutting edge of our biopsy forceps allows you to take diagnostically conclusive tissue samples in a safe and easy manner. In addition to the comfort-forceps with soft grip, our range also includes the eco-forceps (TRUBITE).
Specific Characteristics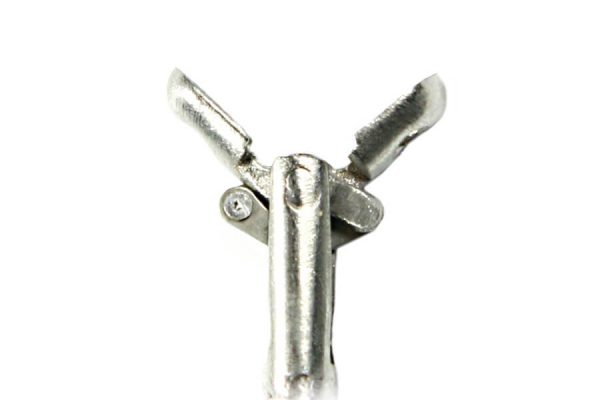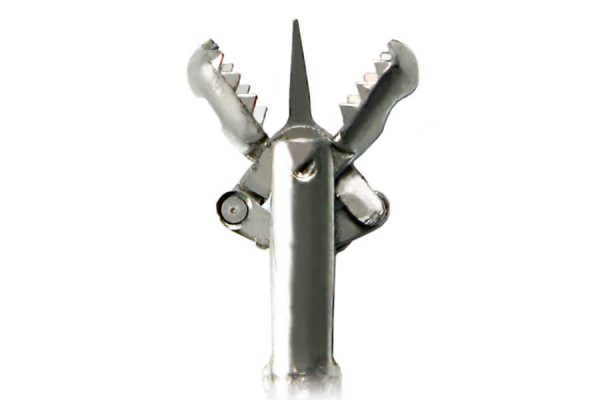 Reliability
Very comfortable to use
Diagnostically conclusive biopsies
Wide product variety
High quality riveted scissors joints
Working channel-friendly design
GRIP IN A COMFORT- OR ECO-VERSION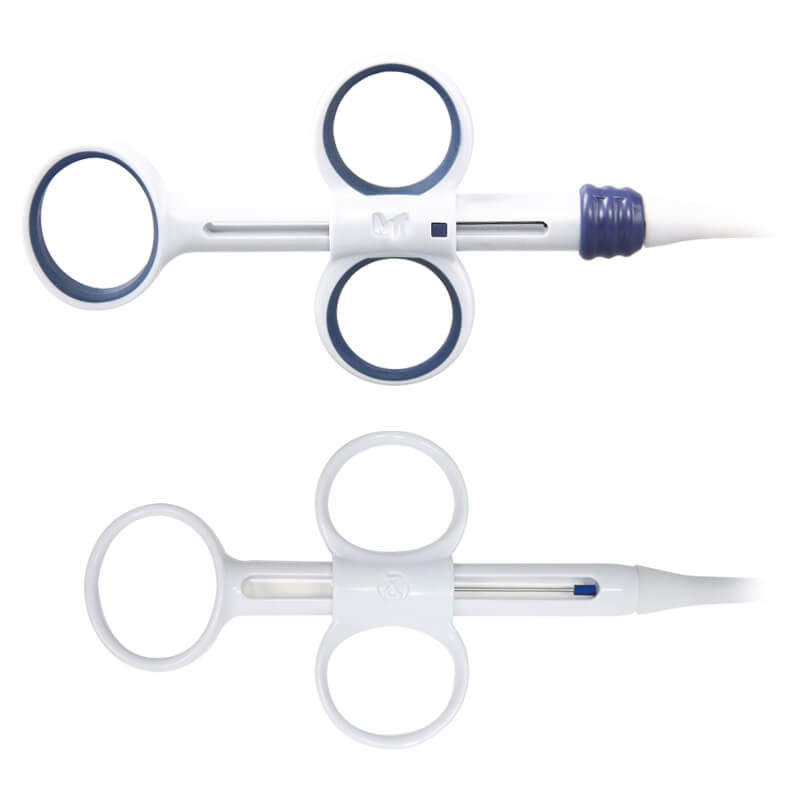 With the grip of the forceps, the jaw section is perfectly under control. It offers you precise guidance even with sharply angled endoscopes. The soft, anti-slip rubber coating handle makes work safe and pleasant. Two different handles are available:
The comfort-version with the soft antiskid rubber makes handling safe and convenient to the eco-version with the plastic handle.
JAW SECTIONS FOR EVERY INTERVENTION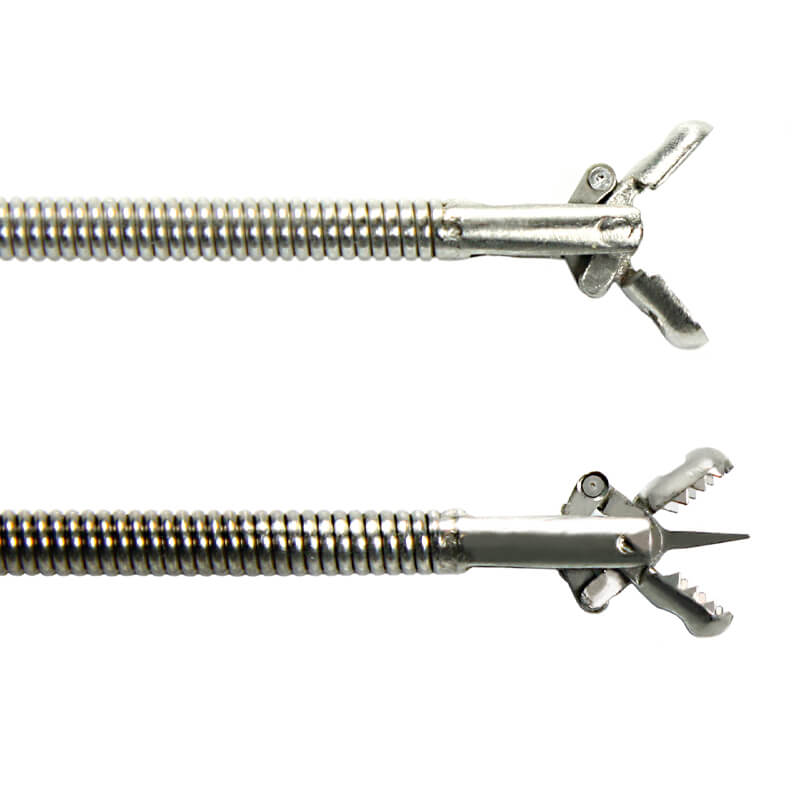 Whether for biopsies or for removal of small polyps – the disposable biopsy forceps are perfectly equipped for any task with different jaw sections: with a smooth or a toothed cutting edge and with or without a spike. The jaw section can be precisely controlled and opened at a wide angle.
HIGH QUALITY COATING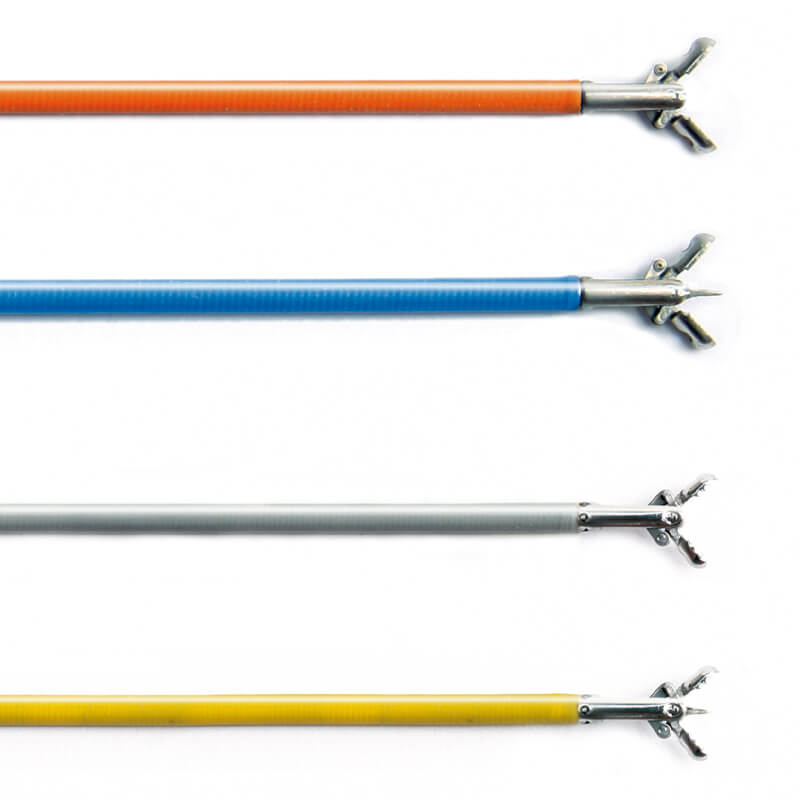 A choice of an uncoated and coated metal coil is available. Additional markings are provided on the coating to facilitate orientation during use.
RAPID IDENTIFICATION
The forceps components have different colour codes for quick identification and choice of application field.
Handle:
white – toothed cutting edge
grey – smooth cutting edge
Jaw section protective cap:
red – with spike
yellow – without spike
Coating:
grey – bronchial forceps Ø 1.8 mm, 120 cm long
yellow – paediatric forceps Ø 1.8 mm, 180 cm long
orange – gastric forceps Ø 2.3 mm, 180 cm long
blue – colon forceps Ø 2.3 mm, 230 cm long
orange or blue – macro forceps Ø 3.0 mm, 180 und 230 cm long
REF

Ø mm

Length mm

Spike

Covering

Jaw

MACRO FORCEPS

NBF01-01030180

3.0

1800

No

Without

Standard

NBF01-01030230

3.0

2300

No

Without

Standard

NBF01-01130180

3.0

1800

Yes

Without

Standard

NBF01-01130230

3.0

2300

Yes

Without

Standard

NBF03-01030180

3.0

1800

No

Orange

Standard

NBF03-01030230

3.0

2300

No

Blue

Standard

NBF03-01130180

3.0

1800

Yes

Orange

Standard

NBF03-01130230

3.0

2300

Yes

Blue

Standard

TRUBITE

EBF51-11023180

2.3

1800

No

Without

Standard

EBF51-11023230

2.3

2300

No

Without

Standard

EBF51-11123180

2.3

1800

Yes

Without

Standard

EBF51-11123230

2.3

2300

Yes

Without

Standard

EBF53-11023180

2.3

1800

No

Orange

Standard

EBF53-11023230

2.3

2300

No

Blue

Standard

EBF53-11123180

2.3

1800

Yes

Orange

Standard

EBF53-11123230

2.3

2300

Yes

Blue

Standard

REF

Ø mm

Length mm

Span width jaw mm

Jaw Ø mm

Spike

Covering

Jaw

TECHBITETM

EBF33-11018120

2.0

1200

4.5

1.8

No

Grey

Standard

EBF33-11018180

2.0

1800

4.5

1.8

No

Orange

Standard

EBF33-11018230

2.0

2300

4.5

1.8

No

Blue

Standard

EBF33-11023120

2.8

1200

6.7

2.3

No

Grey

Standard

EBF33-11023180

2.8

1800

6.7

2.3

No

Orange

Standard

EBF33-11023230

2.8

2300

6.7

2.3

No

Blue

Standard

EBF33-11123120

2.8

1200

6.7

2.3

Yes

Grey

Standard

EBF33-11123180

2.8

1800

6.7

2.3

Yes

Orange

Standard

EBF33-11123230

2.8

2300

6.7

2.3

Yes

Blue

Standard

EBF43-11018120

2.0

1200

4.5

1.8

No

Grey

Serrated

EBF43-11018180

2.0

1800

4.5

1.8

No

Orange

Serrated

EBF43-11018230

2.0

2300

4.5

1.8

No

Blue

Serrated

EBF43-11023120

2.8

1200

6.7

2.3

No

Grey

Serrated

EBF43-11023180

2.8

1800

6.7

2.3

No

Orange

Serrated

EBF43-11023230

2.8

2300

6.7

2.3

No

Blue

Serrated

EBF43-11123120

2.8

1200

6.7

2.3

Yes

Grey

Serrated

EBF43-11123180

2.8

1800

6.7

2.3

Yes

Orange

Serrated

EBF43-11123230

2.8

2300

6.7

2.3

Yes

Blue

Serrated

 
 
 
 
 
 
 
 
 
 
 
 
Foreign Body Forceps
Cytology Brushes